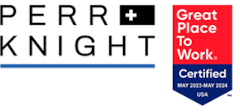 Solutions Architect - Office or Telecommuting
Santa Monica, California - Full Time
We are currently seeking a Solutions Architect who will report to the Principal & Director, Enterprise Software Solutions. This position will work out of either our Santa Monica, Boca Raton, FL or Fort Worth, TX office. Telecommuting will also be considered.
What We'll Bring to the Table
Competitive salary including merit-based bonus plan
Flexible work program
Clear opportunities for career progression
Company-funded professional educational program
Generous benefits including: PTO, medical/dental/vision insurance and 401K with matching Company contributions
Friendly, dynamic work environment
Visible management commitment to our company core values of: employee development, excellent work product, innovation, integrity, respect for each other and superior customer service.
What You'll be Doing
The Solution Architect role is to set the strategy, vision and plans in place to grow, integrate and build out a suite of commercial SaaS products. This person will use their business side knowledge and their technical expertise to create and define road maps for the strategic future of the enterprise. You will work alongside the technical team and the business team to guide them on tools, tech, and methods.
Primary responsibilities include:
Architecting a scalable Suite of Software products across the enterprise.
Forming architectural governance standards, procedures, and enforcing those standards.
Component reuse and consistency.
Evangelizing technical strategy for products.
Working side by side and consulting with the technical team and business team on new services, major changes to service and/or technologies.
What You'll Bring to the Table
Bachelor's degree from an accredited college/university
10-15+ years of IT delivery experience
Expertise in .NET based technologies for core application and services development or something equivalent (Java/Spring Boot, IBM, Opensource, COTS)
Hands-on experience with RESTful services, Event driven architecture, NoSQL databases (MongoDB, Cassandra), Messaging solutions (Kafka/ActiveMQ), Containers (Docker), Orchestration (Kubernetes) and Monitoring (Prometheus, Graphite)
Demonstrates strong foundation in Software Engineering, Object Oriented Analysis and Design (OOAD), Service Oriented Architecture (SOA), Enterprise Service Bus (ESB), Microservices, Software-as-a-Service (SaaS) and related design patterns.
Experience with cloud technologies - AWS, GCP and/or Azure.
Conduct in-depth analysis of current situation and data across multiple dimensions (Program Management, Product Management, Customer Experience, Technology Stack, Technical Architecture, SDLC, Release Management, Integration etc.) to identify future state capabilities with due emphasis on reusing or remediating existing capabilities.
Experience as a "seasoned architecture practitioner," with an ability to think enterprise wide.
Expert level knowledge of solution architecture, solution design and delivery, technology infrastructure, and integration in an enterprise environment.
Hands-on experience with latest release management/DevOps concepts like CI/CD, Containerization and Container Orchestration.
Expertise at balancing the tactical needs and business realities with strategic requirements.
About Perr&Knight
Founded in 1994, Perr&Knight provides insurance consulting and software solutions to the property & casualty and accident & health industries. Services include actuarial consulting, product development, insurance policy and forms consulting, regulatory compliance, state filings, licensing, technology consulting, statistical reporting, data services, and predictive analytics. Software includes StateFilings.com, which is a leasing cloud-based state filings management solution. With offices in Santa Monica, Boca Raton, the New York metro Area, Fort Worth and Cincinnati, and more than 100 insurance professionals, Perr&Knight is among the largest independent actuarial and insurance consulting firms in the United States.
Our mission as an actuarial and insurance operations consulting firm is to provide extraordinary value to our clients by offering innovative and unique solutions to complex challenges they face while providing a positive and motivating work environment for our employees that respects diversity and recognizes ingenuity and hard work.