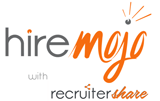 Recruiter With Flexibility to Help As Needed With RecruiterShare
Austin, Texas - Full Time
We are looking for awesome recruiters and sourcers.
You're regarded as a Top-Tier Recruiter located anywhere nationwide, this job is remote. You're all about the art of recruiting. Join our community of RecruiterShare recruiters.
Specifically, we have created a way for you to get paid for candidates you already know but have no jobs to place them into. Simply send those candidates into the specific jobs and get paid between $2300 (For jobs where the annual salary is $70,000 to $149,999) and $3280 (For jobs where the annual salary is $150,000 or greater) when your sourced candidates get hired and start at the new job. In fact, we even deposit the placement fee directly into your account via bill.com.
If you would like a more hands on role managing the recruitment process we have that opportunity too. We don't care if you are working somewhere else as long as you take wonderful care of our hiring managers when you accept the job.
You may still have to do some sourcing on jobs, but it will be far less than traditional recruiting. Specifically, we need you to profile the job with the hiring manager, write a killer job description, craft the initial interview questions, then manage the candidates through the selection process to the hire.
Visualize ridesharing for recruiters. It's technology that presents you with the best jobs from top companies based on your profile settings. If you like a job when it's presented, take it. If you don't like it take a pass without any guilt; another recruiter will accept it. You are in complete control of the number and types of jobs you support! And even if you pass on leading the role, if you know a candidate that could be perfect present them.
Your productivity soars as the the platform does most of the tedious work for you -- manually sourcing, screening and administrative tasks are automated -- freeing you to focus on relationship building and driving the process to a hire with the hiring manager.
If you thrive building relationships and have candidates ready to be placed or you are all about taking control of the recruiting process we have got that.
Take a ride. Be on-demand. Complete the brief online interview, then let's talk for 20-minutes about how on-demand recruiting might be the right fit for you.
We look forward to hearing from you!