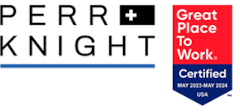 Senior Full Stack Engineer, C#, Core, Angular, TypeScript - Santa Monica, CA Office or Telecommuting
Santa Monica, California - Full Time
Our Enterprise Software Services Department is seeking a Senior Software Engineer to join our team and help pioneer Perr&Knight's innovative next generation web platform and SaaS applications. the ideal canidate will have extensive knowledge of C#, .Net, HTML, CSS, JaveScript, and will be able to shape the application from day one.
What We'll Bring to the Table
Competitive salary including merit-based bonus plan
Flexible Work Program
Clear opportunities for career progression
Company-funded professional educational program
Generous benefits including: PTO, medical/dental/vision insurance and 401K with matching Company contributions
Friendly, dynamic work environment
Visible management commitment to our company core values of: employee development, excellent work product, innovation, integrity, respect for each other and superior customer service
What You'll be Doing
Architect, design, and implement new features end-to-end
Work with product managers, designers, and engineers to prototype and implement product features
Communicate effectively with other engineers, product managers, customers, and partners
Other duties as assigned by the Manager of Software Development
What You'll Bring to the Table
Bachelor's degree from an accredited college or university
Six or more years of IT delivery experience with a solid understanding of Computer Science concepts and programing methodologies
Expert-level back-end knowledge of Microsoft .NET technology stack (C# / .NET Core, Web APIs) and SQL databases (Microsoft SQL Server or any other)
Expert-level front-end knowledge of Angular and TypeScript
Advanced knowledge of HTML, CSS, and JavaScript as occasions arise
Ability to empathize with our users and champion for their experience
Ability to use data-driven approach for product decisions
Strong communication and technical writing skills
Experience with Git, unit testing, debugging, profiling, Visual Studio, JIRA, and other tools that are typically used by developers on Microsoft technology stack
About Perr&Knight
Founded in 1994, Perr&Knight provides insurance consulting and software solutions to the property & casualty and accident & health industries. Services include actuarial consulting, product development, insurance policy and forms consulting, regulatory compliance, state filings, licensing, technology consulting, statistical reporting, data services, and predictive analytics. Software includes StateFilings.com, which is a leading cloud-based state filings management solution. With offices in Santa Monica, Boca Raton, the New York metro Area, Fort Worth and Cincinnati, and more than 130 insurance professionals, Perr&Knight is among the largest independent actuarial and insurance consulting firms in the United States.
Our mission as an actuarial and insurance operations consulting firm is to provide extraordinary value to our clients by offering innovative and unique solutions to complex challenges they face while providing a positive and motivating work environment for our employees that respects diversity and recognizes ingenuity and hard work.