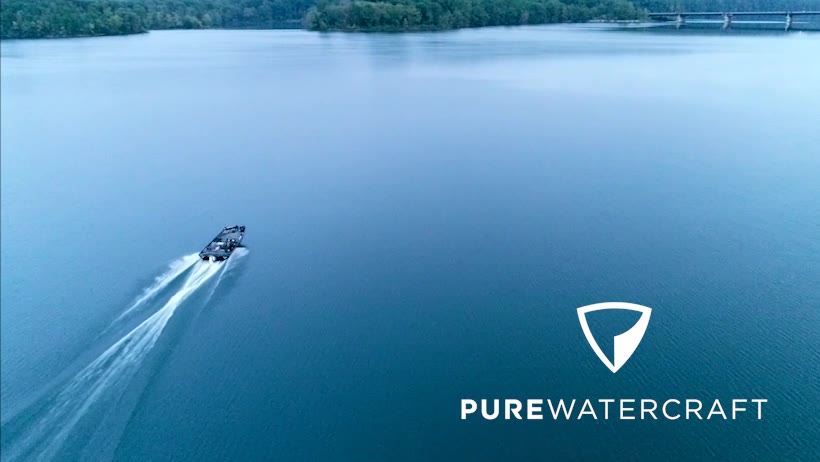 Mechanical Engineer / Manufacturing Engineer
Seattle, Washington - Full Time
Pure Watercraft is creating revolutionary electric boat propulsion to ensure a future where boating will be clean, quiet, and powerful. As we continue to build our innovative products, we are looking for a highly organized and talented individual to join the operations team in designing, implementing and reviewing the procedures and equipment involved in the manufacturing process.
You will identify coherent solutions to production issues and proactively research advanced automation techniques. You will design new products and processes to promote high levels of manufacturing and product quality. Therefore, a good knowledge of tool design and fabrication methods is a must. You also need to perform cost-benefit analyses so we can be more efficient in optimizing our production.
Pure Watercraft is a demanding and fast-paced environment where you will work with a highly motivated team on extremely challenging projects. Thus, you are expected to meet the production deadlines and maintain the smooth operation of the plant. Our prototypes have already delivered more than 1,000 hours of high-performance boating and since we are gearing up for commercial launch, we need to develop a more efficient process while maintaining the quality of our products and adhering to the safety standards.
Responsibilities
Develop and implement innovative manufacturing processes, methods, and equipment for component builds, assembly builds, and end of line test equipment.

Hands on build manufacturing and end of line test fixtures, mechanical assists and various manufacturing equipment builds.

Ability to manage suppliers for 3rd party proposal, quote, build of manufacturing and end of line test fixtures, mechanical assists and various manufacturing equipment builds and factory acceptance testing and site acceptance testing.

Coordinate implementation of new model development and engineering changes to the manufacturing floor.

Create and update manufacturing documentation including process flows, standard operating procedures, work instructions, line balance calculations, build specifications, control plans, and equipment operating instructions.

Develop quality related processes, equipment, gauges, and documentation and be a key contributor in quality alert resolution with 8D, 5WHY and other QA standardized processes.

Identify continuous improvement opportunities and implement appropriate solutions in coordination with applicable departments.

Provide manufacturing floor support including root causing production issues, troubleshooting equipment, and addressing general manufacturing floor inquiries.

Train production personnel in proper application of production equipment and process, filling in for production operator support as needed.

Participate in regular design reviews and work in close coordination with designers to drive design for manufacture (DFM) activities.

Capture production times and related manufacturing costs to provide information for management decisions.

Develop new and innovative manufacturing processes and hard and soft automation with respect to required line run at rates understanding the progression from mechanical assist to fully automated lines.

Ability to work self directed with entrepreneurial spirit to achieve production cost, quality, run at rate and and lead time to implement goals.

Participate in the development and enhancement of Product Development departmental processes and policies related to manufacturing and documentation control.
Requirements
Bachelor of Science in Mechanical or Industrial Engineering degree or diploma

3-5 years of manufacturing engineering experience with knowledge of lean manufacturing principles

Experience with manufacturing processes involving sheet metal fabrication, painting, assembly, electronic finished goods final assembly.

Strong design skills and engineering specification development using SolidWorks and AutoCAD.

Experience with quality control processes and equipment including control plans and inspection/test tooling.

Knowledge of document control systems (PDM), part number/BOM management, and ERP systems.

Experience of participation in a product development team from inception to manufacturing launch.

Quality Control background including problem solving and root cause analysis.

Demonstrated organizational skills with strong oral and written communication abilities

Strong verbal and written communication skills with demonstrated diplomacy and professionalism.

Excellent technical skills (hands-on) with logical deductive reasoning approach.

Strong work ethic and collaborative mindset.

Ability to work in a fast-paced environment.
Desired experience
Fast-growing startup experience preferred

Boat, Electric Vehicle or similar industry experience preferred

A strong technical curiosity
Pure Watercraft is revolutionizing boating, starting by building an innovative electric propulsion system that is clean and quiet without compromising performance. (http://www.purewatercraft.com)
We are an equal opportunity employer and value diversity at our company. We do not discriminate on the basis of race, religion, color, national origin, gender, sexual orientation, age, marital status, veteran status, or disability status.