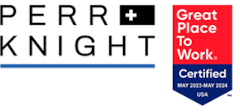 State Filings Manager - Office Based (CA, FL, OH, TX, NJ) or Telecommuting
Santa Monica, California - Full Time
We are seeking a State Filings Manager to work out of our Santa Monica, CA, Fort Worth, TX, Cincinnati, OH, Jersey City, NJ or Boca Raton, FL office (telecommuting is also an option). This position reports to the Principal & Director of Regulatory Compliance and will be responsible for the general management of our growing State Filings consulting practice.
What We'll Bring to the Table:
Competitive salary including merit-based bonus plan
Flexible Work Program
Clear opportunities for career progression
Company-funded professional educational program
Generous benefits including: PTO, medical/dental/vision insurance and 401K with matching Company contributions
Friendly, dynamic work environment
Visible management commitment to our company core values of: employee development, excellent work product, innovation, integrity, respect for each other and superior customer service
What You'll be Doing:
Overseeing team of seven (7) state filings professionals that telecommute
Monitoring workloads and providing overall organizational analysis; advising Director of any necessary changes to maintain and improve efficiencies
Performing technical review of complex filings
Keeping abreast of current laws affecting form, rate and rule filings and related matters and effectively communicating to staff
Improving existing processes as changes are made to SERFF and our proprietary filings platform, StateFilings.com
Providing coaching and training to team members, including ensuring that effective and current training materials are available and up to date
Working with software developers to continuously improve StateFilings.com
Maintaining good relationships with State Insurance Department personnel
Working with our internal Sales department to sell State Filings and Bureau Monitoring services, including drafting proposals, providing fee and timing estimates and participating on calls with prospects
Overseeing department time reporting, billing and invoicing activities

What You'll Bring to the Table:
A Bachelor's degree required and professional designations desired
Minimum of five (5) years insurance experience
Minimum of two (2) years staff management experience
Project management experience
Prior experience submitting state filings and working with SERFF, IFRS, NILS/ LexisNexis or similar, ISONET, and NCCI.com
Ability to multi-task and function in a high-volume, deadline-oriented environment
Strong attention to detail
Strong communication (written and verbal) and presentation skills
Intermediate Microsoft Office skills
Working knowledge of property and casualty lines of business a plus
About Perr&Knight:
Founded in 1994, Perr&Knight provides insurance consulting and software solutions to the property & casualty and accident & health industries. Services include actuarial consulting, product development, insurance policy and forms consulting, regulatory compliance, state filings, licensing, technology consulting, statistical reporting, data services, and predictive analytics. Software includes StateFilings.com, which is a leading cloud-based state filings management solution. With offices in Santa Monica, Boca Raton, the New York metro Area, Fort Worth and Cincinnati, and more than 130 insurance professionals, Perr&Knight is among the largest independent actuarial and insurance consulting firms in the United States.
Our mission as an actuarial and insurance operations consulting firm is to provide extraordinary value to our clients by offering innovative and unique solutions to complex challenges they face while providing a positive and motivating work environment for our employees that respects diversity and recognizes ingenuity and hard work.