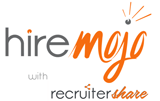 Angular Developer Who Loves Variety and Impact
Lima, - Full Time
Lead in a hands-on technical role where you are responsible for the front end development of an international application! Not only will you own the development of our UI using your proven AngularJS and JavaScript talent, your design eye will be greatly appreciated.
HireMojo is seeking a web-application engineer who has professional experience developing, and deploying web applications according to today's best practices. The ideal candidate must show exceptional JavaScript expertise, have developed applications using Angular, and have products deployed to market.
The ideal candidate enjoys the challenges of early product ideation and brings a creative yet technical mind to the team. This role is for the self starter as both the team and business are at an early stage of development.
Here is a look into RecruiterShare, our latest innovation you will help extend and grow:
We will rely on your proven talents, experience and knowledge to:
Be our expert with JavaScript and TypeScript
Build the front-end of our responsive web application using Angular, HTML, and SCSS/CSS and integrate with our APIs
Optimize our applications on Chrome, IE, Firefox, Safari browsers and their various idiosyncrasies
Contribute to the design and workflow of our application
Participate in our Agile development process
Work with Git or other distributed code repository tools
Help with Node, NPM, Gulp, Grunt, Bootstrap
Implement tools/libraries/frameworks like Angular, Foundation, Backbone, Grunt, Bower
Release REST based solutions that support multiple application clients
Demonstrate your talents with functional and object oriented JavaScript development including application development with Angular
Help with Amazon Web Services hosting, monitoring, and deployment
Use JavaScript testing frameworks such as Jasmine and Mocha
Lead by example by being a team player who enjoys collaborating with technical and non-technical colleagues at all levels of the business
You will likely have the following:
Masters degree in computer science a plus
5+ years experience working on web-based applications and underlying frameworks
Strong work ethic, a drive for success and proactive attitude
Experience working in small teams
We look forward to your application and interest in help growing the HireMojo organization! You can read up on who we are, our business focus and company efforts here http://www.hiremojo.com and www.recruitershare.net.
HireMojo is an early stage technology company with revenue and growth. This is a unique opportunity to step into a role that will open doors. If getting experience with all aspects of business operations while helping to shape the future of a company from the ground up sounds exciting then this is the role for you.
We are based in the San Francisco area, and have clients in multiple countries. Working with an engaging, supportive team with a wide variety of professional development opportunities are just a few of the perks of working with us.
You will be working from home in Lima, Peru and occasionally working out of the TechGenies office there.
If this sounds like you then we look forward to hearing from you!