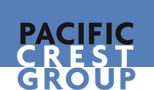 Full Charge Bookkeeper / Jr. Controller (remote)
Kansas City, Kansas - Full Time
Pacific Crest Group (PCG) is a boutique Accounting & HR Consulting firm with a family feel and excellent work-life balance! We provide a fun and collaborative team environment giving our employees professional tools, systems, support, and opportunity for professional development through continued learning, growing and refinement of accounting and finance skills.
We are currently seeking a remote Full Charge Bookkeeper / Jr. Controller to add to our accounting team. Our accounting clients are typically located in Marin, San Francisco, East Bay, or Sonoma County. Work can be performed remotely from anywhere in the US. This is an employee position with weekly All-Staff Check-In's and regular Team Meetings to promote camaraderie and shared goals.

The Controller is a hybrid position that primarily consists of billable client accounting but also includes team management within PCG. In the Accounting role, the Controller serves as an outsourced senior level accountant, responsible for managing accounting functions and client teams (PCG or client teams) while also building and strengthening client relationships. The Controller is expected to provide accurate, timely, and insightful analysis and reporting to their clients as well as assist clients in defining financial goals and provide status updates. In the Client Management role, they are responsible for new client intake and overseeing the transition process between sales and accounting team. They will work with the Operations team to optimize internal and client team resources as well as the overall profitability of the client contract or project. They are responsible for the training of the specific accounting team assigned to them, relative to PCG's accounting services and our brand promise. The Controller will sometimes be involved in developing the accounting skills and systems of the client staff as well. This position requires high levels of internal and external customer service and people management, integrity, technical proficiency, and the ability to maintain full confidentiality of sensitive data.
Qualifications We Look For
5 years of full cycle accounting, finance, or audit experience, with a focus on business partnership and financial strategy, accounting systems, process improvements, and staff management and development
Must be comfortable working with 4-7 small-to-mid size clients at a time ($1 million to $10 million in annual sales)
Must understand GAAP principles; financial reporting & modeling experienced preferred
A service-oriented mindset with the ability to develop and deploy Accounting & Financial resources that are customized for each client as needed
Excellent administrative, organizational, time management, & follow through skills
Detail oriented, self-directed; ability to initiative and conduct initiative and conduct tasks without supervision
Excellent computer skills with Microsoft Office & Excel, QuickBooks Online & Desktop, zoom
Bachelor's degree in Accounting, Finance, or equivalent industry experience
At Pacific Crest Group, we wake up each day, grab a cup of coffee and look forward to making a positive difference in our clients lives. Not everyone finds that exciting, but we do! We thrive on identifying, and navigating a course to improve our client's financial, accounting and HR challenges and taking away the day-to-day burden of hiring, compliance, financial reporting. We live and breathe in this world.