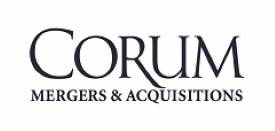 Tech M&A Counsel - Geek Attorney
Bothell, Washington - Full Time
Corum Group, the world's leading seller of privately held software, IT and related technology companies, seeks in-house legal counsel to join our M&A team and assist in our global merger engagements. The ideal candidate has 10+ years of experience as a practicing attorney, and understands technology and the tech environment. This person has substantial legal knowledge and experience with intellectual property, contracts, technology M&A and related litigation. You'll be doing some presentations, and working with pre-sales and post-engagement teams; travel is involved. Position is available at world headquarters near Seattle, WA, reporting to Corporate Counsel, and could be full or part time.
Successful candidates will have prior experience working with M&A transactions, review and drafting of contracts, overseeing due diligence, and litigation. A background in the software and high tech market is optimal. Core competencies should include organization, attention to detail, strategic thinking, and multitasking.
As a member of Corum's M&A team, you would be in a team environment consisting of former CEO's and highly educated individuals dealing with numerous global engagements at once. You must have the intellectual capacity and energy to work with some of the world's brightest entrepreneurs to assist them in the most important transaction of their life, the sale of their company. Naturally, excellent written and presentation skills are a must due to the high level role in education, thought leadership, and transactions.
Corum Group is a 35-year-old international investment bank headquartered in Seattle and Zurich, with global presence in 36 countries, specializing in the sale of software, IT and related technology companies through exclusive engagements.

To build buyer and seller relationships and update its database daily, Corum has invested in the world's most extensive Tech M&A educational program with over 200 events annually. These are done in partnership with international and regional tech associations, major law and accounting firms, leading technology and private equity firms, and the World Financial Symposiums (wfs.com) whose mission is "Educating Technology Leaders". Corum's flagship event for C-level executives, owners, investors and buyers is a half-day conference, "Selling Up Selling Out". It is the most attended executive IT conference in history, running weekly for the past 30 years. "Merge Briefing", "Tech M&A Monthly Webcast", "M&A Market Spotlight" and "Growth and Exit Strategies" are some of the other events Corum either conducts directly, or as a primary sponsor.

The firm's "Global Tech M&A Annual Report" on 30 market sectors presented with world tech leaders/buyers/investors/futurists, Monthly and Quarterly M&A updates, and Corum's "Top Ten Disruptive Technology Trends" are among the industry's most respected research. They are produced by the firm's three research centers, supported by the company's 400 member advisory board - The World Technology Council (WTC).

Corum's 8 Step "Optimum Outcome" process utilizes a unique team approach to best prepare clients so that they aren't a victim of today's tougher due diligence. The process leaves no stone unturned in a global partner search to the new generation of buyers. The result of the investment in process, education, utilizing more experienced team leaders, and proprietary buyer knowledgebase is the successful sale of more privately held software and related technology companies than any Tech M&A firm in history.
Come join our success. Start a new career with Corum.