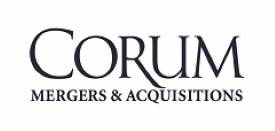 IT Support Specialist - European Division
Bothell, Washington - Full Time
Corum Group, the global leader in technology M&A, is looking for a hard-working candidate to join its expanding IT support team. You will deploy your technical and interpersonal skills to support the global practice of the world's largest seller of software and related technology companies, ensuring that technical challenges don't slow down the rapid pace of international mergers and acquisitions.
You will be responsible for day-to-day remote support of laptops, virtual desktops and critical applications for our staff and management in Europe and Asia, joining a team headquarted in Bothell, WA USA helping employees around North America, Australia, Asia and countries across Europe from the UK to Ukraine. You are flexible, proactive and diligent, and derive real satisfaction from putting your skills to use helping others. You have advanced troubleshooting and multi-tasking skills, along with excellent communication skills.
Experience in use and configuration of the following is required:
· Windows 10
· Windows Server 2016\2019
· Microsoft Office applications
Experience in use and configuration of the following is desired:
· Microsoft Teams
· Virtual Desktop support
· Enterprise-level CRM software support
· GoToMeeting GoToWebinar (or other online conferencing systems)
· Enterprise-level Antivirus support
· Hosted Exchange administration
Experience in the following is desired:
· Providing technical support via phone and\or chat applications
· Hardware troubleshooting
· Programming languages
· Email deliverability troubleshooting
This is an entry level++ position for those interested in providing technical support to the technology and/or finance industries. Onboarding and training in particular practices provided, but candidates should be knowledgeable about Microsoft technologies in particular, with the ability work independently but diligently and collaboratively under tight deadlines, with a range of positions and levels of authority. English fluency is required. Minimum educational requirement is a Bachelor's Degree or equivalent.
This new remote position will be part of our IT team and will have particular focus on Europe and Asia. Occasional support provided to North America both through some scheduled hours overlap and some on-call and ticketed tasks is to be expected. We are a smart, flexible, growing team. If you want a predictable, high-paying job in a large bureaucracy, don't apply. If you want to join a small, dynamic team that advises CEOs around the world and are comfortable wearing many hats, come join us.
Corum Group is a 36-year old international investment bank headquartered in Seattle and Zurich, with global presence in 36 countries, specializing in the sale of software, IT and related technology companies through exclusive engagements.
To build buyer and seller relationships and update its database daily, Corum has invested in the world's most extensive Tech M&A educational program with over 200 events annually. These are done in partnership with international and regional tech associations, major law and accounting firms, leading technology and private equity firms, and the World Financial Symposiums (wfs.com) whose mission is "Educating Technology Leaders". Corum's flagship event for C-level executives, owners, investors and buyers is a half-day conference, "Selling Up Selling Out". It is the most attended executive IT conference in history, running weekly for the past 25 years. "Merge Briefing", "Tech M&A Monthly Webcast", "M&A Market Spotlight" and "Growth and Exit Strategies" are some of the other events Corum either conducts directly, or as a primary sponsor.
The firm's "Global Tech M&A Annual Report" on 29 market sectors presented with world tech leaders/buyers/investors/futurists, Monthly and Quarterly M&A updates, and Corum's "Top Ten Disruptive Technology Trends" are among the industry's most respected research. They are produced by the firm's three research centers, supported by the company's 400 member advisory board - The World Technology Council (WTC).
Corum's 8 Step "Optimum Outcome" process utilizes a unique team approach to best prepare clients so that they aren't a victim of today's tougher due diligence. The process leaves no stone unturned in a global partner search to the new generation of buyers. The result of the investment in process, education, utilizing more experienced team leaders, and proprietary buyer knowledgebase is the successful sale of more privately held software and related technology companies than any Tech M&A firm in history.
Come join our success. Start a new career with Corum.