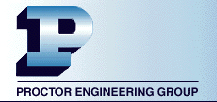 HVAC Quality Assurance Specialist Needed To Conduct Daily Inspections
Los Angeles, California - Full Time
General Summary: Proctor Engineering Group is looking for a Quality Assurance Specialist (QAS) for our San Fernando Valley/Los Angeles Basin location. The QAS will be responsible for inspecting the work performed by participating HVAC contractors to ensure all program requirements and standards are met.
Essential Functions:
Perform technical inspections on work done by HVAC contractors and technicians participating in utility energy efficiency programs to determine conformance with specifications centered around energy efficiency goals.
Analyze results and identify problems and/or cause(s) for inspection failure(s).
Provide solutions to reduce and/or eliminate inspection failure(s).
Ability to work within a team to create and manage specific plans for achieving project goals to support quality training and performance of technicians.
Mentor HVAC technicians by providing and/or recommending solutions.
Produce concise and timely written inspection reports for management team.
Attend field training for contractors.
Required Work Experience:
Extensive field experience working on AC systems. Thorough knowledge of residential and commercial HVAC systems.
Thorough knowledge of the materials, methods, and practices involved in installing, repairing, and maintaining a variety of HVAC systems.
Experience with computers and knowledge of spreadsheet, word processing, and database programs. The ability to type accurately is essential.
Analytical skills necessary to prepare various statistical reports required by Proctor Engineering Group and/or regulatory agencies.
Valid driver's license and clean driving record from the DMV.
Required Educational Experience:
High School diploma required; Technical School preferred or equivalent and experience in installing and repairing HVAC systems at the journey, supervisory, or contractor level.
EPA Type II and/or Universal Certification to handle refrigerant
NATE certification a plus
BPI Certification a plus
Compensation Package Includes:
Annual salary, health, dental, vision, life & long term disability insurance benefits, and personal paid time off. We provide a company vehicle that is stocked with all the necessary tools and equipment needed. A company credit card is provided for company expenses and travel. Company cell phone and a lap top are provided as well. Monday thru Friday schedule, weekends off.
Proctor Engineering Group is an industry leader specializing in the design, implementation and evaluation of energy efficiency programs for electric and gas utility companies nationwide since 1989. Learn more about us at www.proctoreng.com.