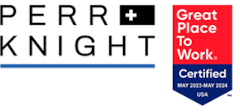 Actuarial Consultant - Telecommuting or Office Based (NJ, FL, TX, OH, CA)
Jersey City, New Jersey - Full Time
We are currently seeking an Actuarial Consultant to work remotely and/or out of our Jersey City, NJ, Boca Raton, FL, Fort Worth, TX, Cincinnati, OH or Santa Monica, CA office.
The Actuarial Consultant will support a supervising Consulting Actuary. The Actuarial Consultant's responsibilities will include, but not be limited to, rate making and reserving projects for nearly all personal and commercial lines of business.
The Actuarial Consultant will work closely with a supervising Consulting Actuary and our other practice areas such as Product Design and State Filings. In addition, it is expected that the Actuarial Consultant will communicate and work directly with clients, with supervision. The Actuarial Consultant will be responsible for meeting a billing target. This position does not involve travel. The Actuarial Consultant will be eligible to participate in Perr&Knight's actuarial education program as they pursue their actuarial credentials.
What We'll Bring to the Table:
Competitive salary including merit-based bonus plan
Flexible Work Program
Clear opportunities for career progression
Company-funded professional educational program
Generous benefits including: PTO, medical/dental/vision insurance and 401K with matching Company contributions
Friendly, dynamic work environment
Visible management commitment to our company core values of: Diversity & Inclusion, Environmental, Community and Employee Wellbeing, Excellent Work Product, Innovation, Integrity and Superior Customer Experience
What You'll be Doing:
Performing reserve analyses, class plan analyses, and rate level indications for property and casualty commercial and personal lines clients
Preparing creative supporting exhibits for rate/rule filings, including preparing explanatory language, return on equity exhibits, actuarial transmittals, etc. across most property and casualty lines of business
Performing tech reviews of formulas/data entry
Preparing rate/rule interrogatory responses
What You'll Bring to the Table:
At least one year working in the Property and Casualty industry
At least one actuarial exam
B.S. or B.A. degree from an accredited university
General understanding of standard actuarial terms such as loss ratio, ultimate losses, written premium, earned premium, on-level earned premium, frequency, severity, loss cost, etc.
General understanding of standard industry coverage types such as Bodily Injury, Property Damage, Personal Injury Protection, Uninsured Motorist, Comprehensive, Collision, etc.
Excellent Microsoft Excel, Word and Access skills. Visual Basic (macros) is a plus, but not required
Ability to think creatively and imaginatively
Ability to manage multiple priorities and projects with strict deadlines
Excellent oral and written communication skills
About Perr&Knight:
Founded in 1994, Perr&Knight provides insurance consulting and software solutions to the property & casualty and accident & health industries. Services include actuarial consulting, product development, insurance policy and forms consulting, regulatory compliance, state filings, licensing, technology consulting, statistical reporting, data services, and predictive analytics. Software includes StateFilings.com, which is a leading cloud-based state filings management solution. With offices in Santa Monica, Boca Raton, the New York metro Area, Fort Worth and Cincinnati, and more than 130 insurance professionals, Perr&Knight is among the largest independent actuarial and insurance consulting firms in the United States.
Our mission as an actuarial and insurance operations consulting firm is to provide extraordinary value to our clients by offering innovative and unique solutions to complex challenges they face while providing a positive and motivating work environment for our employees that respects diversity and recognizes ingenuity and hard work.