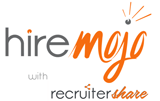 Senior Recruiter With Flexibility to Help As Needed With RecruiterShare!
Chicago, Illinois - Full Time
You're regarded as a Top-Tier Recruiter located anywhere around the US. You're all about the art of recruiting. We are looking for awesome recruiters who would like to build long lasting relationships with our clients and provide a VIP experience!
Sign-up with RecruiterShare as our independent recruiter! RecruiterShare is a part of HireMojo.
We need you to do your magic with full cycle recruiting for jobs as needed, and you get to pick and choose which ones. We don't care if you are working somewhere else as long as you take wonderful care of our hiring managers when you accept the job. The best part is that you can make $40k to $65k per year on the side supporting 3 to 4 new jobs per month and up to $145k per year if you are open to supporting 8 to 10 new jobs per month.
"RecruiterShare is changing the landscape of recruiting. I have referred their services repeatedly to sensibleHR's clients and the level of high-touch service along with the speedy delivery of a premier candidate pool has been nothing short of jaw-dropping.
Sure the initial mind-boggling low cost may be the initial hook, but it is the service from the stable of recruiters and quality candidates that drive the loyalty and high satisfaction. John once again has found a way to better deliver a high-touch service through truly enabling technology in the background!"
Brian Vogel, SensibleHR
We will provide you with all the best tools to aid in your success. Our hiring automation platform that does much of the work of finding and conducting initial screens with each candidate. You may still have to do some sourcing on jobs, but it will be far less than traditional recruiting. Specifically, we need you to profile the job with the hiring manager, write a killer job description (using our knowledgebase as a resource), craft the initial interview/screening questions, then manage the candidates through the selection process to the hire.
Visualize crowdsourcing, but for proven recruiters like you. It's technology that matches you with the best jobs from top companies based on your profile settings. If you like a job when it's presented, take it. If you don't like it take a pass without any guilt; another recruiter will accept it. You are in complete control of the number and types of jobs you support!
Your productivity soars as the the platform does most of the tedious work for you -- manually sourcing, screening and administrative tasks are automated -- freeing you to focus on relationship building and driving the process to a hire with the hiring manager.
Take a ride. Be on-demand. Complete the brief online interview, then let's talk for 20-minutes about how RecruiterShare might be the right fit for you.
We look forward to hearing from you!
-----------------------------------------------------
RecruiterShare is crowdsourcing for proven recruiters across the United States and Europe, effectively displacing traditional executive retained and contingency search firms. One platform for all the outside recruiting needs across the company, and at a fraction of the cost.
If this sounds like you then we look forward to hearing from you!