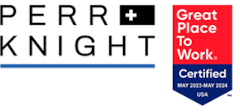 Surplus Lines Specialist - Telecommuting Eligible (partial) - (CA, FL, OH, NJ)
Santa Monica, California - Full Time
Perr&Knight is seeking to add a Surplus Lines Specialist to our growing licensing team. They will be responsible for assisting with the preparation, reporting and all other aspects of Surplus Lines filings for the company in all 50 states. Ensures that proper tax payments are made on time and in accordance with state guidelines. Part of those responsibilities will include, but are not limited to, oversight of surplus lines filings, such as the payment and submission of surplus lines fees and taxes to the respective insurance departments and surplus lines associations. Individual should have an understanding of surplus lines licensee responsibilities, state specific obligations concerning surplus lines disclosures, and filing submission requirements for surplus lines policies.
What We'll Bring to the Table:
Competitive salary including merit based bonus plan
Flexible Work Program
Clear opportunities for career progression
Company funded professional education program
Generous benefits including PTO, medical/dental/vision insurance, 401K with match
Friendly, dynamic work environment
Visible management commitment to our company core values of: Diversity & Inclusion; Environmental, Community and Employee Wellbeing; Excellent Work Product; Innovation; Integrity and Superior Customer Experience
What You'll be Doing:
Ensures surplus lines taxes and fees are reported correctly and that proper policy documentation has been received for reporting purposes
Reconciles and corrects discrepancies between the report and the documentation received
Requests and processes checks or other forms of payment for the applicable fees
Ensures that payment of fees and supporting documentation is sent to the appropriate state agency or Surplus Lines Association according to monthly, quarterly, semi-annual or annual due dates
Processing and payments of surplus lines taxes and stamping fees in all 50 states
Process daily, monthly, semi-annual, and annual state filings for all 50 states
Perform analysis and research of surplus lines requirements and directly work with the state department of insurance and/or stamping offices
Submit UCAA Expansion & Amendatory applications for Insurance Companies
Conduct Insurance Company line of business analysis in support of Form A filings
Perform regulatory research to help determine CofA requirements for new product offerings
Establish and maintain good relationships with licensing staff at various departments of insurance
What You'll Bring to the Table
Prior experience renewing insurance licenses
B.S. or B.A. degree from an accredited college or university
Proficiency at scheduling and prioritizing work and deliverables to consistently meet deadlines
Attention to detail, good organization, resourcefulness, sound judgment and confidence
Intermediate Windows, Outlook, Word and Excel skills
Ability to read, analyze and interpret complex instructions, bulletins and documentation
Flexibility and composure in the face of changing assignments, priorities or goals
Ability to thrive in a fast-pace, time-sensitive environment
An aptitude for recognizing opportunities for automation, streamlining and process improvement
Experience with insurance company licensing preferred
About Perr&Knight:
Founded in 1994, Perr&Knight provides insurance consulting and software solutions to the property & casualty and accident & health industries. Services include actuarial consulting, product development, insurance policy and forms consulting, regulatory compliance, state filings, licensing, technology consulting, statistical reporting, data services, and predictive analytics. Software includes StateFilings.com, a leading cloud-based state filings management solution. With offices in Santa Monica, Boca Raton, the New York Metro Area, and Cincinnati, and more than 130 insurance professionals, Perr&Knight is among the largest independent actuarial and insurance consulting firms in the United States.
Our mission as an actuarial and insurance operations consulting firm is to provide extraordinary value to our clients by offering innovative and unique solutions to complex challenges they face while providing a positive and motivating work environment for our employees that respects diversity and recognizes ingenuity and hard work.
Perr&Knight is an equal opportunity employer and committed to inclusion and diversity. Perr&Knight does not discriminate in employment on account of race, color, religion, national origin, citizenship status, ancestry, age, sex/gender, sexual orientation, gender identity, marital status, physical or mental disability, Veteran status, or other legally protected characteristics. We also consider qualified applicants regardless of criminal histories, consistent with legal requirements.