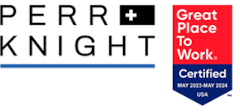 Billing Coordinator - Partial Telecommuting from FL, NJ, OH or CA office
Boca Raton, Florida - Full Time
Perr&Knight is seeking a Billing System Coordinator who will provide administrative and billing support to the Company. The ideal candidate must be self-motivated, detail-oriented and organized with the ability to multi-task.
What We'll Bring to the Table
Competitive salary
(salary range: $60,000 - $80,000)
Flexible Work Program eligibility
Clear opportunities for career progression
Company funded professional education program
Generous benefits including PTO, medical/dental/vision insurance, 401K with match
Friendly, dynamic work environment
Visible management commitment to our company core values of: Diversity & Inclusion, Environmental, Community and Employee Wellbeing, Excellent Work Product, Innovation, Integrity and Superior Customer Experience
What You'll be Doing
Training new hires on Perr&Knight's commercially licensed billing system, Deltek Vantagepoint
Developing and maintaining billing system training materials
Reviewing billing system entries by project managers for consistency with Company standards
Assisting project managers with monthly invoicing process
Working with Finance Department on invoicing anomalies including write-offs, retainers, etc.
Initiating and closing monthly invoicing cycle
Running billing system reports requested by project managers
Working with IT and vendors to troubleshoot billing system issues
Assisting COO with production of monthly billing and quarterly profitability reports
Other general administrative duties based on the needs of the COO, local office employees and other senior leaders
What You'll Bring to the Table
Two plus years of prior experience working with a commercial PSA, ERP or billing system
Three plus years of prior administrative, accounting, billing or similar experience
Intermediate Microsoft Word and Excel skills
Detail-oriented working style with exemplary planning and organization skills
Ability to effectively communicate, both written and verbal, to all levels of the organization, including senior leadership
About Perr&Knight:
Founded in 1994, Perr&Knight provides insurance consulting and software solutions to the property & casualty and accident & health industries. Services include actuarial consulting, product development, insurance policy and forms consulting, regulatory compliance, state filings, licensing, technology consulting, statistical reporting, data services, and predictive analytics. Software includes StateFilings.com, a leading cloud-based state filings management solution. With offices in Santa Monica, Boca Raton, the New York Metro Area, and Cincinnati, and more than 130 insurance professionals, Perr&Knight is among the largest independent actuarial and insurance consulting firms in the United States.
Our mission as an actuarial and insurance operations consulting firm is to provide extraordinary value to our clients by offering innovative and unique solutions to complex challenges they face while providing a positive and motivating work environment for our employees that respects diversity and recognizes ingenuity and hard work.
Perr&Knight is an equal opportunity employer and committed to inclusion and diversity. Perr&Knight does not discriminate in employment on account of race, color, religion, national origin, citizenship status, ancestry, age, sex/gender, sexual orientation, gender identity, marital status, physical or mental disability, Veteran status, or other legally protected characteristics. We also consider qualified applicants regardless of criminal histories, consistent with legal requirements.