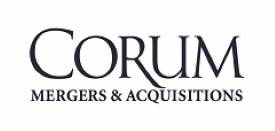 SOFTWARE CEOs – ARE YOU A SERIAL ENTREPRENUER?
Singapore, - Full Time
Start a new lucrative career and get off the C-Suite merry-go-round. Join the Corum team. As one recently retired dealmaker said, "The ultimate job— I only wish I had found Corum earlier".
Tech M&A is exploding, and the Corum Group is rated the "most active" tech investment bank in the world. The reason is simple — we source more software opportunities than anyone through the industry's largest research and education operation, and we are growing!
The selection criteria for our Tech M&A Dealmaker position is extremely specific, which is why we have such an exceptional team.
We are currently seeking former Software & IT CEOs who have built and sold their own company to help fellow tech entrepreneurs sell. Former CEOs, like you, who have sales experience and negotiation skills, domain expertise and enjoy mentoring tech entrepreneurs in the successful sale of their company. Your expertise is vital because you understand how detailed, difficult, and sometimes emotionally trying it can be to successfully sell your company.
You will be supported by global teams of five on each engagement; seasoned experts in research, writing and valuations, working through our 8-step professional process — from preparation to contact, to negotiation and close. It is designed to generate multiple offers and is hands down the most successful process in the industry. No one has sold more privately held software, IT, or related technology companies than Corum Group. No one.
— Convert prospects (from 10,000s of leads generated by Corum's Marketing Team) to clients, developing relationships and selling "The Corum Process: 8 Steps to an Optimal M&A Outcome" via phone, email, personal meets, etc.
— Work as the conduit between clients (tech entrepreneurs); potential buyers; Corum research, marketing, and client services to guide the engagement process from end-to-end: preparation, research, contact, discovery, negotiation, due diligence, closing, and integration.
— Serve as a tech M&A educator, regularly presenting at hundreds of educational conferences, webinars and podcasts produced by Corum Group and its affiliate organizations.
Required Qualifications (Tech M&A Dealmaker)
— You must have built and successfully sold (through a formal M&A process) at least one software, IT or related technology company. (And multiple exits is even better.)
Solid sales experience and an "active sales mentality" is a must. Calling on the phone, emailing, follow-up and waiting.
— Excellent public speaking skills.
— Excellent communication skills.
— Incredible skills in organization and time management.
— Being a good "storyteller" is a necessary. You must convey value through more than just "dry financials and spreadsheets."
— A "hunter" mentality. You need to be comfortable converting prospects to clients, running multiple deals, and mentoring through educational events concurrently. This is an extremely fast-paced business.
— MBA is a bonus, but not required.
About Corum Group
We are the only investment bank built by former Software and IT CEOs to help fellow CEOs who want to sell, and achieve what we call the "Optimal Outcome". Headquartered in Seattle, Zurich and Singapore, Corum is a 38-year-old investment bank that has spent over $50 million to build the largest proprietary seller database by diligently capturing information on over 120,000 companies – critical information that is not just kept in someone's head like other investment banks who are still "networking" for leads. All sellers are ranked and rated.
Our buyer database is the envy of the investment banking community. Not only do we capture their data through our own proprietary process, but additionally, buyers monthly receive our extensive industry leading research on 29 sectors including the thought leading "Top Ten Disruptive Trends", SPAC reports and our educational events. They even speak at our various conferences including the Tech M&A Monthly - the industry's premier webcast broadcast to over 50 countries. Corum's past buyer advisory board members include tech giants like Google, IBM, Microsoft, SAP, Salesforce, and Accenture. Equally impressive is Corum PE Advisory Panel members including Vista, Riverside, Carlyle, KKR, Thoma Bravo, and many other leaders
Benefits (Tech M&A Dealmaker)
Rapid exposure to the tech space across a myriad of different industries, building a wealth of knowledge, insights, and potential relationships with some of the world's leading tech luminaries and investors.
Extremely competitive composition plan for closing deals.
Healthcare & 401k benefits
Exclusive access to corporate assets and vacation properties in the US, Canada, Mexico, and elsewhere.