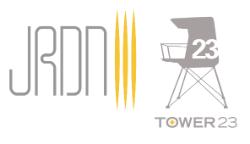 JRDN Restaurant - Hiring Food & Beverage Manager
San Diego, California - Full Time
Who We Are
JRDN Restaurant is Tower23 Hotel's 10,000 square foot award-winning contemporary oceanfront steak and seafood restaurant, featuring casually sophisticated cuisine for lunch + dinner daily, and weekend brunch. The restaurant entices guests with a California-fresh menu that can be experienced in the modern lounge or on the oceanfront terrace.
JRDN Restaurant is currently seeking a full-time Food & Beverage Manager to join our team! The ideal candidate will have beverage menu development experience and a proven ability to lead staff in a high-volume, up-market restaurant environment to continue the tradition of excellence and service for which JRDN is known.
Position Qualifications:
Required: 2+ years' experience working as a Food & Beverage Manager in a high volume, upmarket restaurant environment.
Required: Proven track record of being able to train and lead staff.
Required: Knowledge of ordering, inventory and receiving.
Required: Ability to work in a team environment.
Required: ServSafe Certification or CA Food Handlers' Card.
Required: Ability to maintain a safe, healthful work environment for employees and customers and the willingness and drive to correct deficiencies.
Required: Experience effectively and confidentially handling HR / employee concerns.
A plus: Strong P&L knowledge.
A plus: Bar training and drink creation and development experience
Responsibilities (this is a sampling and not an all-inclusive list):
Under the direction of the General Manager, assist in developing accurate and aggressive long and short-range financial objectives consistent with Company objectives.
Work with the General Manager to purchase products to fill requests; ensure accurate quantities of food and beverages are ordered as specified by company needs.
Monitor activities of employees to achieve set objectives; ensure adequate staffing and monitoring of full time / part time hours.
Investigate food quality and service complaints.
Confer with customers and other personnel to determine menus and follow through with details concerning catering events.
Maximize sales potential through proper employee training.
Ensure all company policies, programs and specifications are implemented.
If this sounds like you, please submit your resume and cover letter along with salary expectations to this ad and be sure to let us know why you are the perfect candidate for this position.
Salary Range: $68,000.00 - $73,000.00 per year (depending on experience)
Additional Employment Benefits: paid vacation and sick time, flexible schedule and access to the employee assistance program (EAP). You may also receive discounts to all our hotel/restaurant venues located in San Diego, Chula Vista, Catalina Island, Bakersfield, and Lake Havasu City.
TOWER23 Hotel is San Diego's only luxury, lifestyle hotel on the beach. TOWER23 Hotel derives its name from lifeguard tower 23 positioned on Pacific Beach by the hotel. The exclusive resort community of La Jolla is just north of the hotel, while downtown San Diego, the airport, major business centers and popular area attractions are just minutes away. San Diego's vibrant beach life sets the stage for TOWER23's distinctive architecture and style.
Our Company prohibits discrimination and harassment of any type and provides equal employment opportunities to all employees and applicants without regard to race, color, religion, age, sex, national origin, disability status, genetics, protected veteran status, sexual orientation, gender identity or expression, or any other characteristic protected by federal, state or local laws.
This policy applies to all terms and conditions of employment, including recruiting, hiring, placement, promotion, termination, layoff, transfer, leaves of absence, compensation and training.